Furnace Replacement
Air Tech Pros offers outstanding value on Furnace Replacement in Sacramento and the surrounding areas—call us today to learn more or book your service! 
---
Upfront Pricing, No Hidden Fees

100% No Interest Financing
To learn more, schedule online or give us a call at 916-538-5385.
Trusted Furnace Replacement Professionals in Sacramento, CA
---
Our team of top-rated heating & cooling experts are ready to help. To get started, give us a call at 916-538-5385 or schedule service online.
Air Tech Pros proudly offers professional furnace replacement service in Sacramento, California. With our expertise and commitment to customer satisfaction, we are here to handle all your heating needs. Whether you need a furnace inspection, replacement, or maintenance, we have you covered. 
Our team of highly skilled technicians is fully licensed and vetted, ensuring that you receive top-notch heater replacement service every time. With our on-time arrivals and fully stocked trucks, we provide fast and efficient furnace service using state-of-the-art equipment. Plus, we offer upfront pricing and free estimates on replacement systems, ensuring transparency and peace of mind for our valued customers. 
Heating Services We Offer in Sacramento
We offer a comprehensive range of furnace services to meet your heating needs. Our experienced technicians are well-equipped to handle any furnace-related issue you may be facing. Here are some of our most popular heating services:
Furnace Inspection
 Regular furnace inspections are essential to ensure your heating system's optimal performance and longevity. Our skilled technicians will thoroughly inspect your furnace, checking for any signs of wear, damage, or potential issues. By identifying and addressing problems early on, we can help you avoid unexpected breakdowns and costly emergency repairs. 
Furnace Replacement
Symptoms like inconsistent heating, strange noises, and a sudden increase in energy bills are often early indicators that it may be time to invest in a new furnace. If you notice any of these signs of wear, contact Air Tech Pros. Our knowledgeable technicians will diagnose the problem and recommend the right heating system for your home. We also offer emergency furnace services.
Furnace Maintenance
Regular furnace maintenance keeps your heating system running smoothly and efficiently. Our comprehensive furnace maintenance service includes cleaning, lubricating, and inspecting your furnace to ensure its optimal performance. By scheduling regular maintenance with our service team, you extend the lifespan of your furnace, improve energy efficiency, and prevent unexpected breakdowns.
Heat Pump Installation
We provide top-notch heat pump installation services to ensure your home stays comfortable year-round. Our team of certified technicians are experts in the field, committed to installing your heat pump efficiently and effectively to optimize its performance.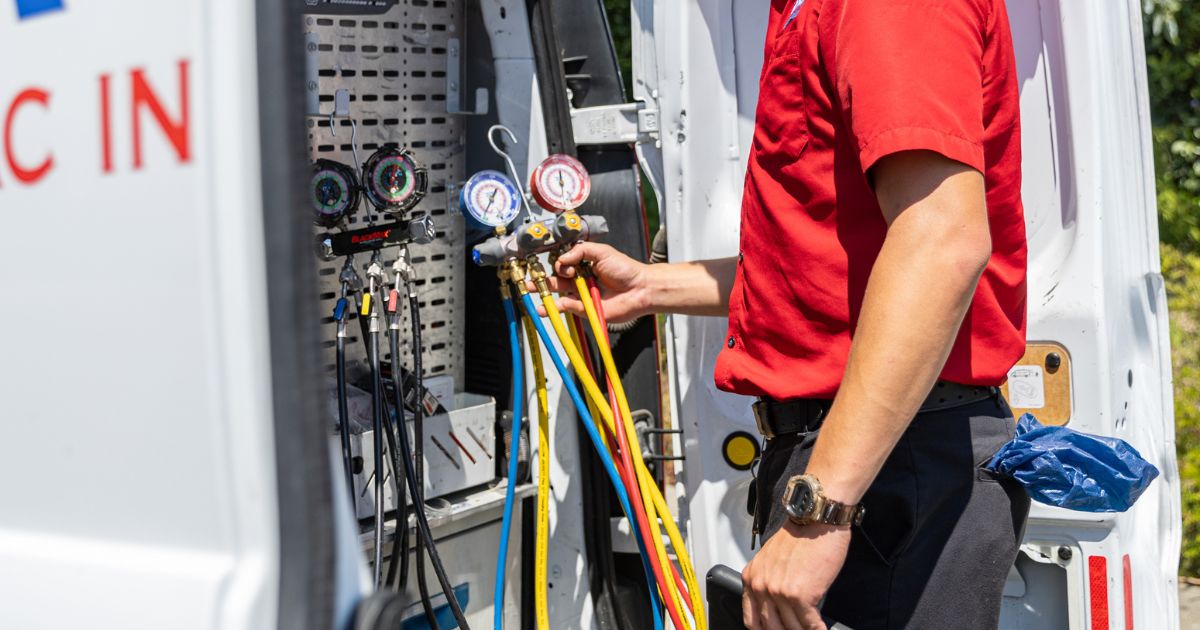 Signs You Need a New Furnace
Recognizing the signs that you need a new furnace is essential to avoid sudden breakdowns and costly repairs. Here are some common warning signs that indicate it may be time to invest in a new heating system:
Rising energy bills:

A sudden increase in your energy bills could indicate that your furnace is no longer operating efficiently.

Excessive dust, dirt, soot, or rust particles:

If you notice an accumulation of these particles in your home, it may be a sign that your furnace is not working properly.

Rooms are heating unevenly:

If some rooms in your home are consistently colder or hotter than others, it may indicate that your furnace is not distributing heat evenly.

The furnace is noisy:

Unusual noises from your furnace, such as banging, rattling, or squeaking, may indicate that it is nearing the end of its lifespan.

Frequent repairs:

If you frequently need repairs for your furnace, investing in a new system may be more cost-effective.
 If you notice any of these signs of wear, contact Air Tech Pros. We can diagnose the problem and recommend the right heating system for your home. Our expert technicians will ensure that your new furnace is installed efficiently, providing reliable and efficient heating for years.
Why Choose Air Tech Pros?
When it comes to furnace replacement service in Sacramento, California, Air Tech Pros stands out as the best choice for several reasons:
Fully Licensed and Vetted Service Technicians
 Our team of service technicians is fully licensed and vetted, ensuring that you receive professional and reliable service. With their expertise and knowledge, they can handle any furnace-related issue efficiently and effectively. 
On-Time Arrivals and Fully Stocked Trucks
We understand the importance of punctuality and convenience. Our technicians prioritize on-time arrivals and come fully prepared with stocked trucks. It allows us to quickly diagnose and address any furnace issues, minimizing downtime and inconvenience for you.
Fast, Efficient, State-of-the-Art Furnace Service Every Time
You can expect fast and efficient furnace service using state-of-the-art equipment with Air Tech Pros. Our technicians are trained in the latest industry techniques and use advanced tools to ensure accurate diagnoses and efficient repairs.
Upfront Pricing and FREE Estimates on Replacement Systems
We believe in transparency and providing our customers with peace of mind. That's why we offer upfront pricing, ensuring that you know the cost of our services before any work begins. We provide free estimates on replacement systems, allowing you to make an informed decision about your furnace replacement.
Schedule Furnace Replacement Near Me
If you need a furnace replacement in Sacramento, California, fill out our online form or call us today to schedule service and get a free estimate on furnace replacement in Sacramento. Learn more about our HVAC specials and financing options
---
Give us a call today at 916-538-5385 to schedule your service or repairs. 
---
Service Request
Contact
"*" indicates required fields
Customer Reviews
---
Lynda I.
★★★★★
Nick did a thorough and professional job servicing my furnace and explaining what I need to do to properly maintain it. Thanks, Nick for a job well done.
Shadé A.
★★★★★
Alex was great! He was very knowledgeable and got our HVAC system back up and working!! Would definitely recommend!! I has a wonderful customer experience!
Kerry M.
★★★★★
William did a very complete and thorough inspection. He was very professional and personable, and explained everything with pictures. I am very confident in his recommendation that my current unit is not safe, which I had already wondered about. I hope that any future service, will be provided by William; thank you! Seeing Air Tech Pros commercial was my initial reason for contacting them; excellent.
Tim D.
★★★★★
Joey was outstanding and explained what and why he was doing certain steps. Great technician!!
Michael F.
★★★★★
Excellent customer service support.
Ingrid K.
★★★★★
Very pleasant and efficient. Great job!
nicholas N.
★★★★★
Alex was very professional and provided exceptional service. Got my unit up and running
jose C.
★★★★★
Excellent and professional service!!
Shelly H.
★★★★★
Air Tech Pros are legit! Alex arrived on time, was incredibly respectful and knowledgeable. He diagnosed the problem with my heater and fixed it quickly. I appreciate the speedy service and fair prices. I recommend 👌
glookgatz S.
★★★★★
Air Tech has been stellar from start to finish. Today's maintaince visit was no exception. They work hard for their stellar reputation.
Terry T.
★★★★★
William was very diligent, friendly, conscientious, thorough, and efficient. The filter was replaced, not difficult to do, but is located under the house which isn't super easy, to get to. My heater was operating ok, but William inspected it all, cleaned build up off the burners, tweaked the mixture for maximum efficiency. He also took pictures of everything to show the before and after. He sent the pictures to me for my records.I would definitely recommend him.
Paul L.
★★★★★
Professional, knowledgeable, and explain everything well
Kevin S.
★★★★★
Adam and Mark did a great job. They explained everything, kept us informed throughout, and were professional and courteous.
Taylor H.
★★★★★
Great service. Very knowledgable.
ann P.
★★★★★
William did a great job repairing my central heat! He arrived on time, was courteous and professional, and diagnosed the trouble right away. He showed me the source of the problem and was able to repair it quickly. He then did a thorough checkout of the system and sat down with me afterwards to show me photos that he took of the system while explaining their functions. I will definitely use Air Tech Pros in the future for my HVAC servicing.
Yolanda P.
★★★★★
Brian was timely, professional, and very pleasant. The diagnosis fee was an unexpected surprise, considering I've been with Air Tech less than 1 year, but that was not his fault.
Marielena S.
★★★★★
Thanks for getting to us asap and for the excellent follow up service.
Norma D.
★★★★★
Service was fast and the technician took his time to explain to me what issue was what caused it and how it was resolved. Technician was also friendly and easy to work with. Sometimes people are rude and in a hurry.
Don B.
★★★★★
I had this tec last timeHave to tell you hire the best. All business and friendly . Tells you what he doing in detail. Thanks
Raiford H.
★★★★★
William represents Air Tech Pro. He demonstrates their values by being honest, knowledgeable, personable, reliable and punctual. I highly recommend this company.
Jeff P.
★★★★★
Needed a major repair on our 3T package HVAC system (heat exchanger). Got 4 bids. Air Tech was easily the most competitive and technician Nick and his partner completed the repair, adjusted both gas and static air pressure to mfg standards, tested the system and explained all the completed work to us, the owners, in less than 4 hours. Most impressive. Will call Air Tech again next time.
Soo Lee D.
★★★★★
Consistently great service for semi-annual HVAC maintenance. The techs are great and very thorough. The office is wonderful about keeping track of when maintenance is due and proactively schedule. Communication is good and they are always on time and efficient when the techs get here. Nick has come a couple of times and he is friendly and pleasant. I really trust and enjoy working with this company.
Mike S.
★★★★★
Joey is a great tech. He knows his business, is professional, and efficient. We ask for Joey for all our hvac needs as our top choice for service.
Marjorie B.
★★★★★
William did a nice job with my furnace tune-up. He explained things well and was thorough.
Claudia J.
★★★★★
Zac did an excellent job in servicing our HVAC but just as important he explained every step so we could understand what he did. His recommendations were spot on.So glad he's looking out for us.
Dave B.
★★★★★
Thorough efficient courteous and funny!
Calmer O.
★★★★★
Tech provided good summary of his visit
chris M.
★★★★★
Once again AireTech Pros and Sir William saved the dayThe best company for your heater and air conditioning!!!!!
Debra F.
★★★★★
Alex is very thorough. He's professional and friendly. Very happy with his visit
Juan C.
★★★★★
Friendly staff, I had my AC services with them about two weeks ago and I have an attic fan installed today. Both techs were friendly, answered all my questions, cleaned up the area where they worked and treated my home with respect. I will be using this company in the future
William S.
★★★★★
Great job !! Professionally done
Anna H.
★★★★★
I've been having this company coming out for a couple years already. With the same guy Nick, which he is great. He has good customer service and explains everything to the t.
L L
★★★★★
Brian is very professional and pleasant. Great technician
Cesar P.
★★★★★
Very professional and helpful. He is honest and knowledgeable.
Anne S.
★★★★★
Great company!!! I've been using them for five years. They are very through, professional, respectful and keep my systems working well!! William was very helpful explaining all the details of the inspection! I highly recommend!!
Jessica B.
★★★★★
Brian was such a knowledgeable and kind person. I will recommend this company to everyone I know. Such a classy employee…
Chuck P.
★★★★★
Joey was very professional and thorough
Tara H.
★★★★★
Nick J made the service fast and easy. Was straightforward about the work and was able to make sure my furnace had the works to keep me toasty through the winter. Thank you!
Dan L.
★★★★★
Jonathan was polite, professional and diligent / it was a pleasure meeting him and he found our noise issue without delay.
Patricia M.
★★★★★
Joey was very experienced technician. He was personable, explained what he was doing. It was very thorough and timely and very pleasant individual. I would be happy if you came back to my house for any kind of follow up work.
Annie G.
★★★★★
Excellent service, outlining all of our options. Alex was a pleasure to work with.
Catherine M.
★★★★★
Brian did a thorough evaluation of the system. He explained options and will continue to monitor the situation. Hopefully the part he is ordering will work.
Don P.
★★★★★
Good service, good salesmanship. Sold me on the "Perpetual" plan! There were other plans but, he assured me, I had chosen the best (price, discounts, priority service and, minimum, two maintenance inspections a year). I'm "sold" on Air Tech Pros!
Kenneth B.
★★★★★
This review is directed to address the installation of a furnace supplied and installed by Airtech pros.With winter around the corner I found the need to replace the furnace in my mothers home. I am in Texas and she lives in Placer county so I had to facilitate everything over the phone with emails and photos. I'm a retired engineer and not having any experience or knowledge in HVAC was looking for a clear and concise understanding of the process and timeline for the install.I set out gathering multiple quotes. Then I spent quite a bit of time questioning different installers concerning the process. Very few installers are willing to wade through all the questions I had. John Angi from Airtech pros gave me all the support I requested answering all the technical questions I required and added so much more knowledge that I felt very comfortable going with this company. They offered a fair and competitive price for the project from seven companies that I received quotes from.At this time the project is complete and the system works like a charm. Along with their above average warranty and professionalism I received from this company I know I made a sound decision.
Susan L.
★★★★★
The man who came was very nice. He took pictures of the dilapidated building that was old and falling apart. You didn't refuse to give me the pictures later for a lawsuit I brought up against the slumlord that own the building so he was not helpful at all
Connie Martinez C.
★★★★★
Team of great people!
Sylvia B.
★★★★★
We met with Matt to discuss getting a new A/C installed. He discussed what the installation would entail, gave us a few options on the unit selection and on financing options, and did not hard/pressure sell the project at all.
Daniel J H.
★★★★★
Kyle is amazing! Very professional, courteous and cool! Resigned for another year service contract with Fox Fam!Great company!!!
R K
★★★★★
Kyle showed up, diagnosed the problem and fixed it in no time. Worst heat wave of the year (so far) and we are back up and running.It was covered under warranty!
Md I.
★★★★★
I got Outstanding Performance from Chris. Will request for his services again again and again.
Pam B.
★★★★★
Excellent service! Nick was wonderful!
Paul J.
★★★★★
Showed up at 7:00 a.m. the day after I called, diagnosed my issue but also gave me tips on my system. Very pleased.
John R.
★★★★★
Chris was very helpful, knowledgeable, and provided professional service.
1. 4. A.
★★★★★
Of course we aren't finished yet but first technician Chris stopped by and then Gareth came by to do the measuring and other details and both were very informative. Seems like they will be using top notch materials and doing a fantastic job looking forward to getting it all finished 👍
Tawni H.
★★★★★
Will was prompt, professional, and determined/fixed the issues with our AC very quickly. We're so appreciative!
James C.
★★★★★
Matt did a great job laying out many options for us. He answered all of our questions and took the time with us. When we made our decision they were quick to respond and able to give us a good value for the work.
Kelly K.
★★★★★
They scheduled a call same day as call. Chris was on time and isolated the problem within 30 minutes. Good explanation of what he found.
Randy G.
★★★★★
Brian showed up in the designated time. Was respectful calm cool and collective. Highly recommend this company and service. Two thumbs up!!!
Phil Deming I.
★★★★★
Garreth @AirTech Pros was very professional, clean, and efficient. He found opportunities on our HVAC that were unforeseen and we're also needs. I would definitely recommend a consultation when installing any new system.
Eslie S.
★★★★★
AIR TECH SERVICE MAN WAS VERY PROFESSIONAL POLITE, HELPFUL VERY GOOD IN ALL WAYS, THANK YOUESLIE SULLIVAN
Heidi H.
★★★★★
William G is very knowledgeable, efficient and professional. Explained everything he was doing and found a potentially dangerous situation. Excellent service that I highly recommend!
daniel C.
★★★★★
William was very professional and did an excellent job. Thank you
Jim B
★★★★★
William was very respectful and did a good job with our service. AirTech does a good job with service.
Robert A.
★★★★★
Estimate and evaluation for installation of ew swamp cooler.
Ron F.
★★★★★
Very fast and efficient , Great job!!
Glenn G.
★★★★★
Matt did an excellent job outlining the job parameters and presenting available options. He was fast and efficient. No hard sales tactics.
shelton P.
★★★★★
Joey was awesome! Great customer service and explained everything to me in lament terms so I can understand! What an awesome experience! Thank you!
Richard H.
★★★★★
Very Profession & Knowledgeable Service Tech
Rhonda A.
★★★★★
This company is excellent. Their customer service is one in a million, from their first contact to quote a job, continuing with scheduling and installation. This is the second install this company has performed for us. They previously installed an HVAC unit at a rental I owned in 2019 and we were so impressed with their workmanship then that I urged my mom to consider them for her install. She was equally impressed. If you want quality workmanship and excellent customer service, you need to choose AirTech.
Ben T.
★★★★★
Very professional and knowledgeable. He explained in details about his findings about our HVAC unit.
Irene D.
★★★★★
Jeff explained what he was going to check and what he did.
Carmen R.
★★★★★
He was friendly but professional and very responsive to our multiple questions. We hope he can come again to our next schedule service.
glookgatz S.
★★★★★
Let me just say the proof of a company is how they handle the unexpected. Air Tech came through at all points. In the end they replaced a 28 year old heating and A/C unit they made it affordable and as an unexpected problem arose, they resolved it quickly and to my complete satisfaction. I highly recommend Air Tech without reservation. Thank you all for your excellent work.
Janet W.
★★★★★
My experience with Air Tech Pros was excellent. William was very professional. He was able to give me a 2nd opinion and then do the work right away! I would recommend them for their work! Thank you!
Amelia H.
★★★★★
Chris took his time to explain and show me all the possible issues with my system. I felt very confident that he was thorough and complete in his diagnostics. Thank you, Chris Y. and ATP!
Stephanie P.
★★★★★
Nick was so awesome! He was very knowledgeable, personable and professional. Very pleased with the service I received 🙂 Highly recommended!
Neal J.
★★★★★
Great price and service. Complete HVAC replacement, great installation job. Very fast, clean and professional. Everything was done on schedule. Would 100% go with them again.
Cesar P.
★★★★★
Technician was very knowledgeable. Gave me the pros and cons for each decision I need a to make. Found the problem and showed it to me He inspired confidence. I will use you guys again.
Tatia C.
★★★★★
Joey was on time. Professional, and knowledgeable. He did an excellent job and explained everything very well
Barbara W.
★★★★★
I was very pleased with the tech Steve and how he explained and showed me areas with issues and spent time making sure I understood his recommendations and options. He was awesome. Very professional , thorough and did great job
Theresa C.
★★★★★
Joey was very nice and professional and helpful he explained everything very well.
Rebecca W.
★★★★★
Complete heating and air replacement. They were professional. Sensitive to our personal needs and decision. Explained everything in detail. Made sure to present all options.
John K.
★★★★★
Nick provided excellent service, was thorough and explained his actions clearly.
Mike W.
★★★★★
Nick was most impressive. On-time and very thorough with his assessment. Gave me clear repair/replacement options without any pressure. I will ask for him specifically with any future maintenance or repair needs.
Andrew N.
★★★★★
Technician was personable, professional, explained our issues
Mike F.
★★★★★
Very professional articulate in communicating what was needed for the maintenance and suggested upgrades to our systems.